MORE THAN GAMING
What games can I play?
For a full list of games.
Preinstalled Games

Aim Lab
Grand Theft Auto V
Rumbleverse
Among Us
Halo Infinite
Smite
Apex Legends
Halo Master Chief Collection
Splitgate
Ark: Survival Evolved
Hearthstone
Starcraft II
Ark: Survival of the Fittest
Heroes of the Storm
Streetfighter V
Assetto Corsa
Knockout City
Stumble guys
Brawlhalla
League of Legends
Team Fortress 2
Call of Duty Warzone
Legends of Runeterra
Teamfight Tactics
Call of Duty: Black Ops III
Lost Ark
Tekken 7
Dead by Daylight
Madden NFL 23
Tom Clancy's Rainbow Six Siege
Destiny 2
MIR4
Uno
Diablo III
Naraka Bladepoint
Valorant
Dirt Rally 2.0
Overcooked 2
War Thunder
Dota 2
Overwatch
Warface
Fall Guys
Paladinds
Warframe
Fortnight
Path of Exile
World of Tanks
Genshin Impact
PUBG battlegrounds
Golf with my Friends
Rocket League
Xbox Gamepass Ultimate

Gamepass Ultimate
MLB The Show
Forza Horizon
Madden
FIFA
Nintendo Switch

Super Smash Bros Ultimate
Mario Kart 8 Deluxe
All the games, with the exception of the house account games, require each visitor to login to a service account. There is no fee to sign up for an account. You can maximize your gaming time in the arena by signing up for each of the following accounts before visiting:
We are always adding new games in the arena. If the game you're looking for is new, chances are it will be available in the arena soon. However, you can always suggest a game you'd like to play in the arena by sending us an email at esports@k-state.edu.
K-State Esports Club
The club is a student organization dedicated to fostering a community of individuals who are passionate about playing video games at all levels. Participating in esports allows students to practice and develop key soft skills such as teamwork, communication and time management. The club is also welcoming those who do not wish to participate in competitive gaming but wish to be involved in other activities and events.  
Membership
Membership benefits for the club include free play in the esports arena, ability to try out for Kansas State Univerisity teams, free entry into events hosted by the club and access to the team store. For additional information, contact Ben Counts, esports coordinator, at bcounts@k-state.edu or esports@k-state.edu.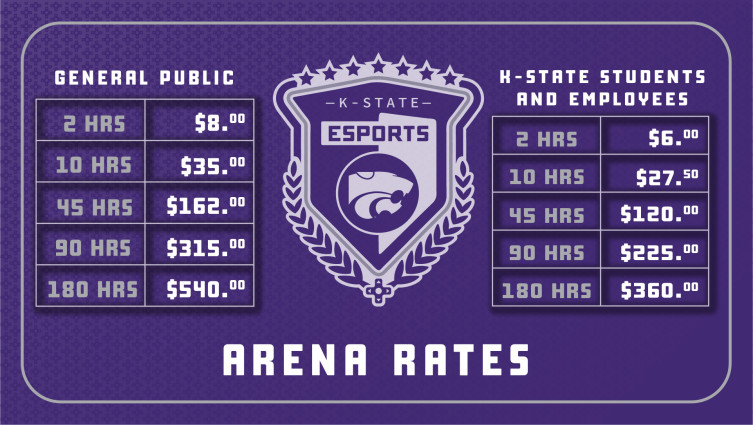 Hours
---
---