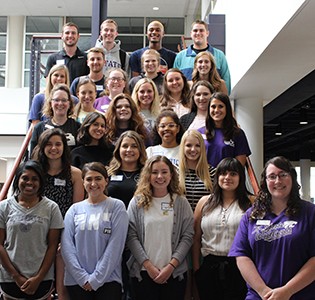 The Union Program Council (UPC) has served as the Union's source of entertainment since 1956. UPC enhances the K-State experience with more than 150 cultural, recreational and educational programs each year. Partnering with registered student organizations, university departments and local businesses, UPC travels across campus and the community to provide diverse experiences to K-State and its surrounding area.
Visit the UPC website
for a current list of upcoming events and meetings.
The organization also offers student members many opportunities to be creative and develop leadership skills through program coordination. The various committees of UPC produce and promote comedy, film screenings, art shows, lectures, concerts and other events. UPC is always accepting new members. Stop by the next meeting and get involved in premier campus programming.
Members
President
Kate King Hagen
Vice President for Membership
Dara El-Shaarawi
Vice President for Operations
Tori Everett
After Hours co-chairs

Alexis Burns

Gretchen Heidebrecht

Chance Pemberton

Katy Trupp

 

Arts co-chairs

Ivy Bogle

Jacquelynn Ruwwe

 

Campus Entertainment co-chairs

Sarah Bures

Swap Gupta

Laken Horton

Michael Varhola

 

Community co-chairs

Kennady King

Aubrey Koontz

Daytime Programs

Bethany Rich

McKenna Stout

Films co-chairs

Anna DePastino

Jennifer Gamblian

 

Forums co-chairs

Emily Muckelbauer

Derrius Washington

Multicultural co-chairs 

Oluchi Amakoh

Abby Sarvis

 

Music co-chairs

Amanda Coatney

Jason Heikes

Ben Weigel

Promotions co-chairs

Emily Lenk

Caroline Webster

Programs Manager
Beth Bailey
Program Advisor 
Erika Davis
UPC Grad Advisor
Camila Rivera
After Hours Grad Advisor 
Andrew Marsh
Administrative Assistant
Kelly VanCleave
Hours
Normal Hours
Mon:
8:00 am-5:00 pm

Tue:
8:00 am-5:00 pm

Wed:
8:00 am-5:00 pm

Thu:
8:00 am-5:00 pm

Fri:
8:00 am-5:00 pm

Sat:
Closed

Sun:
Closed

---
---