Finals Extended Hours and Study Spaces

With finals approaching, the Union has the study spaces and resources students need to end the semester strong.
Study Spaces
Finals Extended Building Hours
The Union will have extended weekend building hours during finals, in addition to the regular 24-hour availability Sunday through Thursday.
Friday, Dec. 7: midnight – midnight
Saturday, Dec. 8: 8 a.m. – midnight
Sunday, Dec. 9: 8 a.m. – midnight
Monday, Dec. 10: 24 hours
Tuesday, Dec. 11: 24 hours
Wednesday, Dec. 12: 24 hours
Thursday, Dec. 13: 24 hours
Friday, Dec. 14: midnight – 10 p.m.
Union Ballroom Quiet Study
The Union Ballroom, located on the second floor, will be open for quiet study during the following times:
Sunday, Dec. 9: 6 p.m. – midnight
Monday, Dec. 10: 3 p.m. – midnight
Tuesday, Dec. 11: 7 a.m. – midnight
Wednesday, Dec. 12: 3:30 p.m. – midnight
Thursday, Dec. 13: 7 a.m. – midnight
Friday, Dec. 14: 7 a.m. – 4 p.m.
Meeting Rooms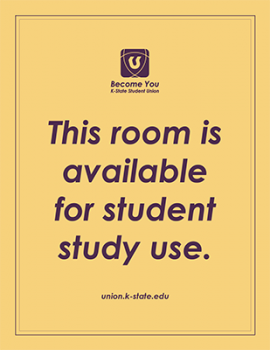 Various meeting rooms are also available as student study spaces – look for the door signs that say "This room is available for student study use." Currently available spaces and times can be viewed at union.k-state.edu/events, or check the digital screens throughout the Union. Potential rooms include:
Room 057 on the ground floor, next to the 91.9 KSDB FM station
Meeting rooms on the east side of the second floor
Third-floor conference rooms
During finals, these meeting rooms will be available anytime the Union is open (except during scheduled reservations), which will include overnight access Sunday through Thursday and late-night access during extended weekend hours. See the full schedule of finals building hours above.
Resources
Whiteboards
Electronic flip boards and large whiteboards are available throughout the Union for use by student study groups on a first-come, first served basis.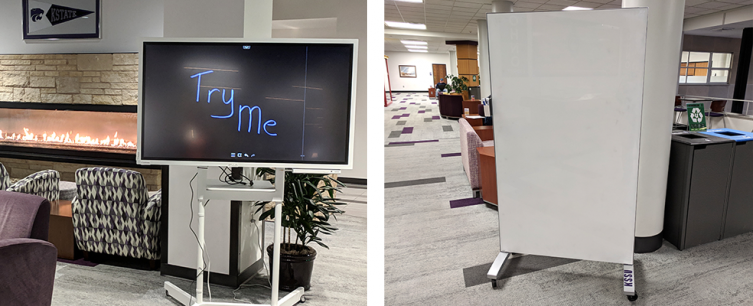 Public Computer Labs
Open computer labs are available on the first floor next to the Fireplace Lounge and on the ground floor near the Courtyard.
Printing
Limited free printing is available at both open computer labs, the Welcome Desk on the first floor and outside of the IT Help Desk in the Cat's Pause Lounge on the second floor.
Full-service printing is available at the Copy Center on the first floor.
---