Union Engraving New Customer Special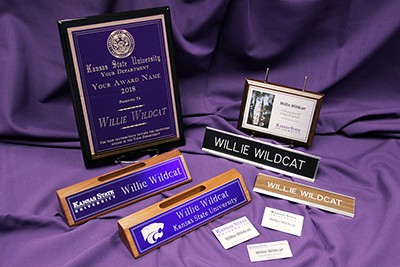 Set your office apart with specialty desk stands, door brackets and directional signs. Identify your staff with personalized name tags. Build morale and team spirit with awards, trophies and plaques. Union Engraving Services gives you the personalized attention and high level of quality and service you deserve while ensuring that all your items are created, designed, printed and produced to your liking. 
Union Engraving Services can also reproduce your most cherished memories for safekeeping. Bring in photos, drawings, awards, diplomas and other printed documents to be reproduced with the Alumajet process.
Now through March 15, get 10% off all new customer orders! 
To see product examples or submit an engraving request, visit union.k-state.edu/engraving.
For more information, please contact Union Engraving Services at engravingservices@k-state.edu or call 785-532-6562.
---