Union Program Council and Wildcat 91.9 present a welcome back music festival you do not want to miss! The inaugural Wildstock concert will begin at 7:30 pm, Friday, Sept. 10 on Bosco Student Plaza.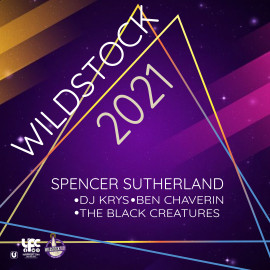 A mix of genres will open the free show which include a dance remix by Kansas State University student DJ Krys, an acoustic set by K-State alumni Ben Chaverin and the hip hop duo The Black Creatures are coming from Kansas City to round out this amazing pre show.
Fresh off as the opening act for the Jonas Brothers this week, Spencer Sutherland brings his soulful pop sounds to Manhattan. Releasing his first single, "Heartstrings"  in 2013, Sutherland has gained more than 500,000 followers and his videos have been viewed 20 million times. He was named People Magazine's Artist Making Their Mark 2021. Catch his show before he goes on his headlining tour in November 2021.
For additional information on this event or for a complete list of all UPC activities, visit kstateupc.com or call the UPC office at 785-532-6571.
About Union Program Council: Union Program Council plans more than 150 entertaining, educational, cultural and substance-free events for K-State students and the Manhattan community each year.
The Union's mission is to serve all, especially students, with facilities that provide services, programs, leadership experiences and educational opportunities which foster a sense of wellbeing and belonging in an inclusive community.
---