UPC Proudly Presents "An Evening with Eugene Lee Yang"
You have questions, he has answers. Eugene Lee Yang, one of the world's most culturally influential YouTube creators, will host a comedic Q & A at 7:30 p.m. Monday, Apr. 4, 2022  in Forum Hall at the K-State Student Union.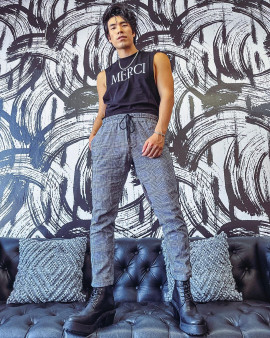 The Union box office will open at 6 p.m. General admission, VIP and pre-reserved guests should check in at the box office for seating assignments.
Yang is a producer, actor, director, writer and one of today's most recognizable queer Asian-American performers. His digital work over the past seven years as a viral video producer has been viewed billions of times. In early 2018 he and the comedy quartet The Try Guys launched their own independent production company, amassing millions of followers with projects such as a New York Times bestselling book, an international live tour, and an upcoming Food Network series. 
Yang's beautifully choreographed and deeply personal music video about coming out, "I'm Gay," in June 2019 went viral and has raised over $150,000 for The Trevor Project. 
In March 2021 Yang released his full-length documentary, "We Need To Talk About Anti-Asian Hate" imparting the importance of "engaging in more active, outspoken dialogue the most vulnerable in our communities face that so often go unheard". This documentary has raised more than $600K to GoFundMe's Stop Asian Hate campaign. Yang is currently in development for his own television, film and additional writing projects.
According to an interview, Yang says that most of his videos aim at negating the negativity by displaying the beauty of all the diversity that the world has to offer.
Tickets are available night of the show only and are free for students with a valid K-State ID. General admission tickets are $15 (cash only, ATMs available). 
For additional information on this event or for a complete list of all UPC activities, visit kstateupc.com or call the UPC office at 785-532-6571.
About Union Program Council: Union Program Council plans more than 150 entertaining, educational, cultural and substance-free events for K-State students and the Manhattan community each year.
The Union's mission is to serve all, especially students, with facilities that provide services, programs, leadership experiences and educational opportunities which foster a sense of wellbeing and belonging in an inclusive community.
---