Fourth Annual Heartland eSports Tournament

The Kansas State University eSports club and WTC sponsored the fourth annual Heartland eSports Tournament on Saturday, Apr. 4, 2022 in the K-State Student Union Ballroom. Featuring three gaming competitions, "Overwatch", "League of Legends" and "Super Smash Brothers Ultimate", eight collegiate teams participated in the tournament.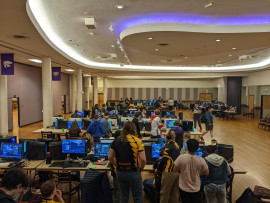 Final rankings for the "Overwatch" competition included Wichita State University, first, University of Kansas, second and Kansas Wesleyan University placing third.
The "Leagues of Legends" tournament results were KU, first, K-State, second and the University of Missouri-Kansas City in third. 
The "Super Smash Brothers Ultimate" tournament had 122 players for the singles tournament and 26 teams in the doubles tournament. The winners of the singles tournament included Gabriel Romero, first place, Tanner Jordan, second place and Tony Merksick, third place. Doubles tournament winners were Tanner Jordan and Alec Hafemanin, first place; Rafel Gonzalez and Ben Crump; second place and Caleb Filler and Gabriel Romero, third place. 
Recordings of select matches can be view with the links below 
Overwatch esportsclubksuow - Twitch
League of Legends esportscludksulol -Twitch
Smash Stream Heartland Showdown - YouTube
The Union's mission is to serve all, especially students, with facilities that provide services, programs, leadership experiences and educational opportunities which foster a sense of wellbeing and belonging in an inclusive community.
---