A Thousand Words Art Exhibit 2022
 "A Thousand Words" in a series of 100 faces by Los Angeles artist Len Davis who uses mixed media and collage to create interesting combinations of colors and textures. This series explores the interplay between the figurative and literal term, "A Picture Is Worth A Thousand Words".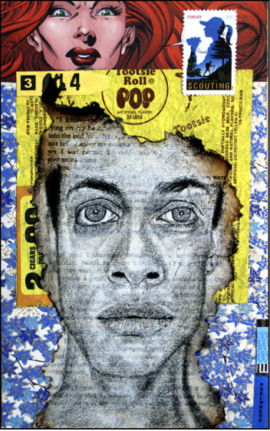 Davis' explanation for the figurative and literal meaning behind his work, "When looking at a person's facial expression, you can tell how they're feeling at that moment whereas text, words, verbiage and recognizable text/identity marks explains it for you. Either way, we're provided a mental picture from both."
Davis grew up in West Philadelphia, surrounded by graffiti art on walls and subway cars, and while he had an interest in art, he knew graffiti was not for him.
"I was bike riding one day and I found pieces of paper from a love novel. You know a newsprint with a lot of text on it. I found it on the street as I was bike riding and I was thinking, you know what-and this was in 2008- I said, you know I'm going to use this for something. But I'm going to hold onto this book."
The pages became the background for every image in Davis's exhibition. Layers of magazine cut outs, discontinued stamps and even candy wrappers with text logos surround the sketches.
Davis' exhibit "A Thousand Words" will display at the William T. Kemper Art Gallery in the K-State Student Union from Monday, Sept. 26 through Saturday, Nov. 5, 2022.
Davis will also be hosting a lecture at 5:30pm, Monday, Oct. 3 in Wildcat Chamber on the first floor of the K-State Student Union with an artist reception to follow in the William T. Kemper Art Gallery. Davis will also host a hands-on, maker workshop for students to create their own art piece from 4:30-6:30pm, Tuesday, Oct. 4 in the gallery.
For additional information on this event or for a complete list of all UPC activities, visit kstateupc.com or call the UPC office at 785-532-6571.
About Union Program Council: Union Program Council plans more than 150 entertaining, educational, cultural and substance-free events for K-State students and the Manhattan community each year.
The Union's mission is to serve all, especially students, with facilities that provide services, programs, leadership experiences and educational opportunities which foster a sense of wellbeing and belonging in an inclusive community.
---