UPC Proudly Presents "Country on Campus"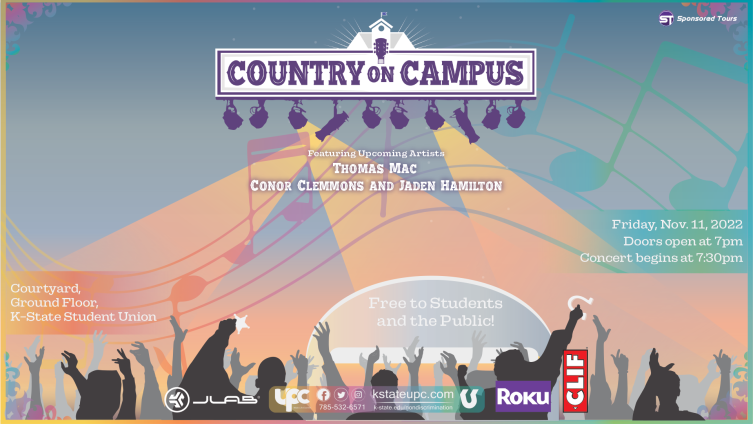 Presented by Union Program Council and Sponsored Tours, Country on Campus is taking the stage at Kansas State University this week and bringing with them the hottest new talent in country music.
Thomas Mac is a Nashville artist who started performing live at the age of 14. With more than 3 million followers on TikTok and an enormous social media following, his newest single, "More Like a Bar," from the EP by the same name, was recently released on digital platforms.
After having a song he wrote go viral on social media, he moved from Dayton, Ohio to Nashville, Tennessee where he started catching the eye of people in the industry. He was offered his first record deal at the age of 20 and performed for the first time on The Grand Ole Opry stage that same year.
Conor Clemmons is (in his own words) energetic, passionate and driven. Clemmons, a Charlotte, North Carolina, native who moved to Nashville in 2013 and released his debut EP, "Left Of Center '' in 2016, which entered the iTunes country charts at number fifteen. His single, "Top it Off", would make its way to being part of iHeart Country radio later that year.
Jaden Hamilton, a native to Prairieville, Louisiana knows that success takes risks. After graduating high school, Hamilton enrolled at Louisiana State University and after three weeks decided to take a risk and unenroll and move to Nashville to pursue his singing career. 
For additional information on this event or for a complete list of all UPC activities, visit kstateupc.com or call the UPC office at 785-532-6571.
About Union Program Council: Union Program Council plans more than 150 entertaining, educational, cultural and substance-free events for K-State students and the Manhattan community each year.
The Union's mission is to serve all, especially students, with facilities that provide services, programs, leadership experiences and educational opportunities which foster a sense of wellbeing and belonging in an inclusive community.
---