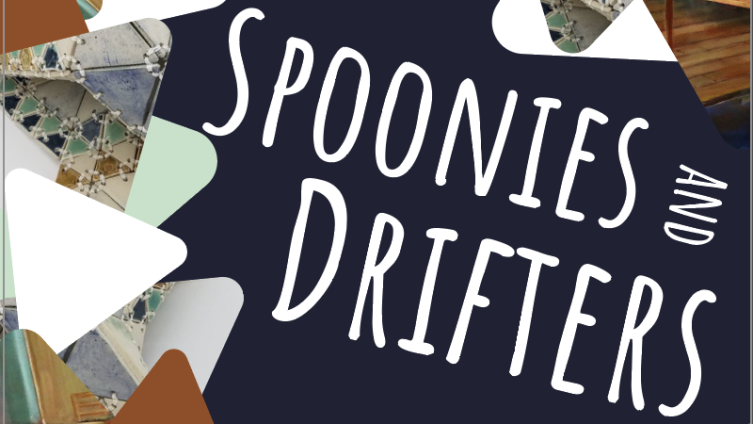 Madeline Mullinix and Ariana Swann met during the summer selling artwork at the local Farmers Market and became friends. Having made and sold art together, the two women found their artwork has certain unspoken commonality. Their joint exhibit "Spoonies and Drifters" is descriptive of the way they see themselves as a people. 
"Spoonies" refers to Mullinix who views herself as a neurodivergent person and "Drifters" refers to Swann as a vagabond. Both consider themselves to be outsiders in some ways, but find that they can communicate through their art. 
Mulinnix is from the Kansas City area and currently in her final semester of college for a bachelor's degree in anthropology and ceramics. Her work lends itself toward the sculptural side. Her current focus is on ceramic textiles, an exploration of melding ceramics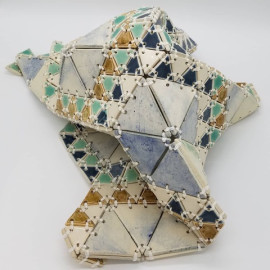 and textiles together to create soft sculptures. Her first piece, "In Loving Memory", is a quilt made up of 360 tiles  hand sewn together. Their project took a year to complete from the beginning of drafting to sewing the final tile into place. Using ceramics in the place of actual textiles lends itself to being formed into structural garments. 
Ariana Swann is a Venezuelan-Italian-American who has walked, driven, flown and hitchhiked throughout the United States and the world. About one year ago she found herself in Manhattan, Kan., and was surp​rised to discover she rather liked it.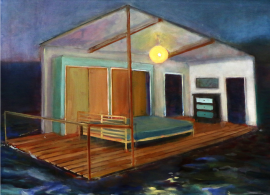 She is in her final semester of a one-year post-baccalaureate portfolio development program in the art department, with a focus on painting. The fantastic program has allowed her access to art education after painting under her own tutelage for five years.
 Within this program, she has explored painting, collage, 3D models and animation. She is honored to have been welcomed with open arms into this community of students, professors, and art enthusiasts in this bright little corner of the world.
Mullinix and Swann's exhibit will be on display at the William T. Kemper Art Gallery in the K-State Student Union from Tuesday, Nov. 8 until Monday, Dec. 5, 2022.
For additional information on this event or for a complete list of all UPC activities, visit kstateupc.com or call the UPC office at 785-532-6571.
About Union Program Council: Union Program Council plans more than 150 entertaining, educational, cultural, and substance-free events for K-State students and the Manhattan community each year.
The Union's mission is to serve all, especially students, with facilities that provide services, programs, leadership experiences and educational opportunities which foster a sense of wellbeing and belonging in an inclusive community.
---