Get ready to be soothed and grooved! The Union Program Council in partnership with the K-State Student Union and Union Governing Board is excited to announce recording artists Ben Rector and brother and sister duo, Lawrence, will be co-headlining the free " Soothin' and Groovin' " concert at 7:30 pm Saturday, April 29, 2023, on Anderson Lawn, Kansas State University.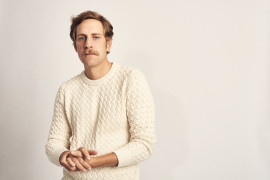 Ben Rector started his career writing songs and touring in his Honda Accord on the weekends. In March 2020, Rector found himself at home and at the piano. The alchemy of life's big questions, more downtime than he'd had in a decade, and those now all-too-familiar "unprecedented times" resulted in his career album: The Joy of Music. The project includes a breathtaking short film (featuring seven songs brought to life with stunning cinematography), inviting listeners and viewers to visit a dream world that communicates Rector's creative process and his reckoning with his job as an artist. He is led through the film's chapters by his new friend Joy, a muppet monster he created with Jim Henson's Creature Shop.
In this fantastic and dream-like landscape we see and hear Rector overcome a deep-seated fear of failure, dancing and singing his way through the journey of rediscovering the joy of music. Rector has amassed over a billion streams across all platforms, has performed on numerous late-night and morning TV shows including Conan, The Today Show, Jimmy Kimmel, Live With Kelly And Ryan, The Macy's Thanksgiving Day Parade, and as a celebrity mentor on American Idol alongside Ryan Tedder, Jewel, Brian McKnight, Jason Aldean and more. His records have topped numerous Billboard charts, with his last two records landing at #1 on Billboard's US Folk and #2 on Billboard's US Rock and US Indie charts. Rector has built a dedicated touring base, regularly selling out theaters and amphitheaters across the country, including three consecutive nights at the legendary Ryman Auditorium in Nashville.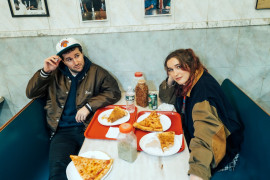 Clyde Lawrence and Gracie Lawrence have been writing songs and listening to countless Stevie Wonder, Randy Newman, and Aretha Franklin records in their family's New York City apartment since they were little kids. After years of playing together, they officially created Lawrence, an eight-piece soul-pop band composed of musician friends from childhood and college. The band has since gained a devoted following for its high-energy, keyboard-driven sound, which features tight, energetic horns and explosive lead vocals.
Lawrence released their new album, Hotel TV, in July 2021, and became the first band to release music under Beautiful Mind Records, the label of Grammy-winning producer/songwriter/artist Jon Bellion, who co-produced and co-wrote the songs on the album. The tracks on Hotel TV have garnered tens of millions of streams across all platforms and have had multiple viral moments on Tik Tok and Instagram. Most recently, the album's lead single, "Don't Lose Sight," was featured in an international Microsoft commercial, which propelled it into the Top 20 on the USA Shazam Pop Charts. The single also hit #33 on Top 40 radio and was played on over 100 multi-format stations across the country. The band performed "Don't Lose Sight" on Jimmy Kimmel Live, did a performance for The Late Show with Stephen Colbert, and used it to close both sets at Coachella - with the entire audience singing along!
For additional information on this event or for a complete list of all UPC activities, visit kstateupc.com or call the UPC office at 785-532-6571.
About Union Program Council: Union Program Council plans more than 150 entertaining, educational, cultural and substance-free events for K-State students and the Manhattan community each year.
The Union's mission is to serve all, especially students, with facilities that provide services, programs, leadership experiences and educational opportunities which foster a sense of wellbeing and belonging in an inclusive community.
---