2022-2023 Year-End Union Honors

The Union and its various organizations recognized students, staff and additional partners for their outstanding contributions at the 2023 Union Leadership Celebration Tuesday, Apr. 25.
Union Program Council
Co-chair of the Year: Sophia Palcic and Erin Smith
Event of the Year: Harry Potter Dessert Theater
Graphic of the Year: Egg Hunt, designed by Maggie Krout
Union Governing Board
Committee Member of the Year: Cathleen Cowell
Union Ambassadors
Advisor Choice Award: Kenzie Deckler
Union Ambassador of the Year: Tram Pham
Stanley L. Winter Alpha Tau Omega Leadership Scholarship
Winners: Kotis Atkinson, Ashley Elliott, Payton Lynn and Tram Pham
This scholarship perpetuates the memory of Stanley L. Winter on the campus of Kansas State University and provides educational opportunities and assistance for upper-level students who possess exemplary attributes in scholarship, fellowship and character.
Employee Achievement Award
Staff winners: Steve Anderson, retail services, Chick-fil-A and Tiffany Boddy, building operations
Student winner: Hayden Bracken, retail services, Chick-fil-A
The achievement award recognizes employees that exemplify and embody the mission and values of the Union.
Years of Service Recognition 
Erin Ziegenhirt - 5, Joel Knarr - 10, Ling Zhou - 15, Jeff White - 20, and Nelson Barton - 40
Partner of the Year Award
Winner: Commerce Bank
The award recognizes departments, corporate associates, vendors, and other individuals who have demonstrated outstanding support and collaboration to advance the K-State Student Union mission.
Vision Award 
William "Bill" Smriga, former K-State Student Union Executive Director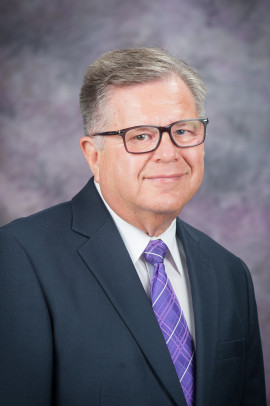 The award identifies and extends our sincere appreciation to the individuals in the history of the K-State Student Union whose efforts, commitment, influence and dreams energized the growth and service of our student union.
As the Union Executive Director, Smriga led the successful $32 million renovation of the facility from 2015 to 2017 and brought the Union into a budget surplus during his service. Under his leadership, the Union established a new catering model, increased community groups and established more scholarships and benefits for employees.
By prioritizing students and education, Smriga fostered leadership experience, educational opportunities and a diverse Union community.
Smriga's service to higher education is extensive. Before coming to K-State, he was the director of the Memorial Union and Beach/Schmidt Performing Arts Center at Fort Hays State University, associate director of Student Auxiliary Services at the University of Missouri in Columbia, director of Valparaiso University Student Union, and assistant program director for Indiana Memorial Union at Indiana University.
He received his post master's certificate of Advanced Studies in Organization from Loyola University, and a master's degree in college student personnel administration and bachelor's degree in arts and sciences, both from Indiana University.
In addition to awards and invited presentations, he has served in numerous community service and professional leadership positions, including host director for the Big 12 Union Directors' Meeting in 2013 and years of work with the Association of College Unions International.
---