Gift Cards
Looking for the perfect gift? A K-State Student Union gift card is ideal for graduation or any special occasion. Gift cards can be purchased at both the ID Center and the Union Bowling Center, and can be used in many K-State campus locations:
Phone: 785-532-6399
Email: wildcatcard@k-state.edu
Lost and Found
Lost items that are turned in, including cell phones, clothing, backpacks, jewelry, credit/debit cards, checkbooks, wallets, purses, keys* or IDs will be held in the Business Office. The Business Office is located on the third floor of the Union. To access the third floor, take the east elevator or east stairwell. 
*K-State keys will be turned over to University Key Control, 109 Dykstra Hall. Residence hall keys will be turned over to Housing Maintenance in the Pittman Building.
Phone: 785-532-6575
Restrooms, Lactation Lounge and Baby Changing Stations
In addition to the men's and women's restrooms available on each floor (see full building map), there is a single-person bathroom on the first floor across from the Welcome Desk. A lactation lounge is available next to the single-person restroom. Baby changing stations are available in the men's and women's bathrooms in the following areas:
Lower level by the Bowling Center counter
Ground floor by the south entrance behind the K-State Campus Store
First floor on the south side behind the Fireplace Lounge (in this men's restroom, the changing station is inside the accessible stall).
First floor in northeast seating area between Chick-fil-A and QDOBA
Second floor on the south side across from the Big 12 Room
Wayfinding
Looking for a meeting room, office, restaurant, lounge area or restroom? Stop by one of the Union's touch-screen wayfinding stations for directions!
Welcome Desk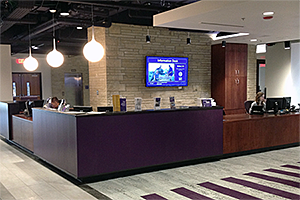 The welcome desk, by the Union's east doors on the first floor, serves as the entrance to the Student Governing Association and Center for Student Involvement office suite. The Welcome Desk can also help you find a meeting room or other campus building, and provide you with helpful information about K-State and the Union.
---
---