Copy Center
University Printing is your on-campus partner to meet all of your printing needs. Our high speed color and black-and-white digital printers are capable of scanning, copying and printing documents faster than normal office photocopiers. With us, you get competitive prices, quick turn-around and guidance on how to make your project the best that it can be. Digital printing is ideal for class projects where quality and speed are essential. We also can help you with large format printing, copying, laminating and mounting, up to 60 inches wide. Online ordering is available for several printing jobs. Scroll down for hours.
Phone: 785-532-6596
Email: copyserv@k-state.edu
ID Center
The K-State ID Center is located on the Union's ground floor. 
All students, faculty and staff get their Wildcat Cards at the K-State ID Center. Your Wildcat Card is your official university ID and can be used as a:
Photo ID
Access/Entry Card
Computer Lab Printing Card
Library Card
Cat Cash On-Campus Debit Account
Meal Plan Debit Card
To ensure a long life for your card, please do not mark on or bend your card, punch holes in your card, place stickers on your card or scratch the magnetic strip. If your ID is lost or stolen, report it immediately to the K-State ID Center. Lost or stolen cards can be flagged to prevent further use. The Union is not liable for losses incurred by individuals due to stolen Wildcat Cards. There is a $20 fee for replacement of a Wildcat Card. View a complete list of K-State ID Center policies here. Scroll down for hours. 
Phone: 785-532-6399
Email: wildcatcard@k-state.edu
Lost and Found
Lost items that are turned in, including cell phones, clothing, backpacks, jewelry, credit/debit cards, checkbooks, wallets, purses, keys* or IDs will be held in the Business Office. The Business Office is located on the third floor of the Union. To access the third floor, take the east elevator or east stairwell. 
*K-State keys will be turned over to University Key Control, 109 Dykstra Hall. Residence hall keys will be turned over to Housing Maintenance in the Pittman Building.
Phone: 785-532-6575
Wayfinding
Looking for a meeting room, office, restaurant or lounge area? Stop by one of the Union's touch-screen wayfinding stations for directions!
Welcome Desk
The welcome desk, by the Union's east doors on the first floor, serves as the entrance to the Student Governing Association and Center for Student Involvement office suite. The Welcome Desk can also help you find a meeting room or other campus building, and provide you with helpful information about K-State and the Union. Scroll down for hours.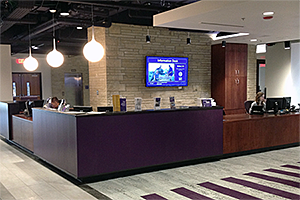 ​  
---
---