Jardine
Park n' Ride
Union Express
SafeRide
A variety of local and long-distance transportation services have stops near the Union. Visit each service's website for complete details.
Greyhound
Greyhound has a bus stop at the K-State Parking Garage at 706 N. 17th St. Tickets are not sold at this stop and should be purchased online at greyhound.com. The westbound bus leaves at 11:55 am daily and the eastbound bus leaves at 3:45 p.m. daily.
ATA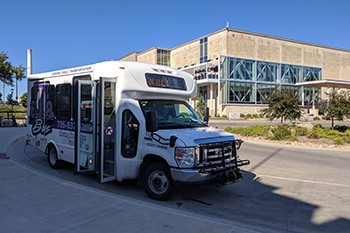 Kansas State University partners with the Flint Hills Area Transportation Agency (ATA) to provide free public transportation across the Manhattan campus to students, faculty and staff. Current bus routes are detailed here. The Park 'n' Ride ATA Bus Route and Union Express Route stop at the Union. View the schedule and route details here. K-State faculty, staff and students can ride all campus and Manhattan fixed routes for free with their K-State ID.
Safe Ride
The SafeRide Program provides a safe ride home for K-State students and guests who live within the designated city limits of Manhattan, Kansas, from 11 p.m. to 3 a.m., Thursday through Saturday night, on weekends when school is in session. The C1 and C2 routes stop at the Union. See all routes and transfer stops here.
One person in the party must show a current K-State ID to receive a ride for a group of up to four individuals.
Non-K-State students who are not in a party with a K-State student may ride for a fee of $2. For questions or assistance, contact 785-537-6345 during the hours of operation for SafeRide.
Football Game Day Shuttle
The Union and K-State Campus Store have partnered to provide free shuttle rides to Bill Snyder Family Stadium on home football game days.
The shuttle begins transportation two hours prior to kickoff from the south circle on 17th Street, between the K-State Parking Garage and the Union. Passengers will be dropped off near the Quick Cats convenience store in the Jardine Plaza Neighborhood. Return trips resume with five minutes remaining in the third quarter, and rides will continue until approximately one hour after the end of the game.
How to Get Here
Find us on Google Maps. The Union is located at 918 N. 17th Street.
From eastbound I-70, take exit 303 to K-18 E. Continue on K-18/Fort Riley Blvd. Turn left on 17th Street, continue and the Union will be on the right.
From westbound I-70, take exit 313 to KS-117 N. Use the right lane to take the KS-177/Fort Riley Blvd. ramp to KS-18/Tuttle Creek Blvd and turn right. Turn right on 17th Street, continue and the Union will be on the right.
---
---