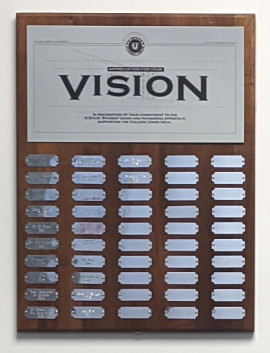 The vision award identifies and extends our sincere appreciation to the individuals in the history of the K-State Student Union whose efforts, commitment, influence and dreams energized the growth and service of our student union.
2022 Recipient
Cindy Bontrager, vice president, chief operations officer for university operations
Cindy Bontrager has worked in higher education for 37 years and is the vice president of university operations, which is the department responsible for supervising all facilities and maintenance risk and compliance, police and public safety, environmental health, safety, parking, and is the administrative support center. Cindy oversaw a tremendous building boom on campus and led the effort to significantly upgrade critical building infrastructure, major building projects including the business building, the engineering building, the student union renovation, Wefauld hall, the Bernie Family Welcome Center,  Seaton Hall expansion, the Moore Family Multicultural Center and the renovation to Hale library.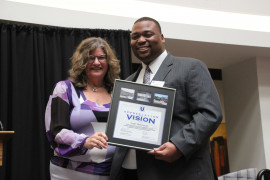 Cindy has always been extremely supportive of the K-State Student Union. She has been serving on the Union Corporation Board as an inaugural member since 2012, and has served as treasurer for a 9 year period. Cindy has always supported the Union's mission statement of putting the students as the number one priority. During the 2015 Union renovation that she helped organized, she also oversaw food trucks being placed on Bosco Plaza to amend for the food court being closed. Power was needed on the plaza for these food trucks, and Cindy stepped up and offered for the university to pay for half of the expense to install power locations on Bosco plaza. Cindy was also very supportive of the Union's transition foodservice models that created new opportunities for revenue generation within the union and would regularly meet with the executive director of the Union in her role as treasurer of UCB to ensure the Union had financial stability. 
The Union is tremendously grateful for Cindy's leadership and significant contributions, whose efforts, commitment, influence, and dreams energize the growth and services of the K-State Student Union. 
Past Recipients
2004: Marianna Kistler Beach, student who organized the Union student fee campaign; and Franklin Richards
2005: Daniel Beatty
2006: Loren Kottner, first Union executive director
2007: Dr. Ed Gillette, first Union Governing Board officer; and Leon Armantrout, first Union Governing Board officer
2008: Dr. James McCain, university president who opened the Union; and Dr. C. Clyde Jones
2009: Green Construction of Manhattan, contractor that constructed the original building
2010: Dr. Chester and Mrs. Doris Peters, former vice president of student life; and O.D. Milligan Construction Company, contractor responsible for building expamsion
2011: Walter Smith, third Union executive director
2012: Richard Blackburn, second Union executive director
2013: Jon Levin, Jeff Levin and Steve Levin, bookstore contractors 2002-2012
2014: Pat Bosco, vice president of student life
2015: Ryan Patterson, SGA Privilege Fee chair who helped organize the 2015 Union renovation
2016: Nathan T. Spriggs, student body president who organized the 2015 Union renovation
2017: Jack Sills, fourth Union executive director
2018: Jack Connaughton, Union associate director
2019: Bernard J. Pitts, fifth Union executive director
2021: Bill Muir, UGB ex-officio
2022: Cindy Bontrager, vice president, chief operations officer
---